What makes the Great Escape from North Compound, Stalag Luft III in March 1944 so remarkable? The sheer audacity of the incarcerated airmen, their ambition and the scale of the planned breakout.
The build up to the night itself, passing along the tunnel and climbing the exit shaft which opened into the night air short of the protective tree line, and then either hours of freedom before recapture, or days, or for three escapees a 'home run'. All the elements required of a gripping and engaging story.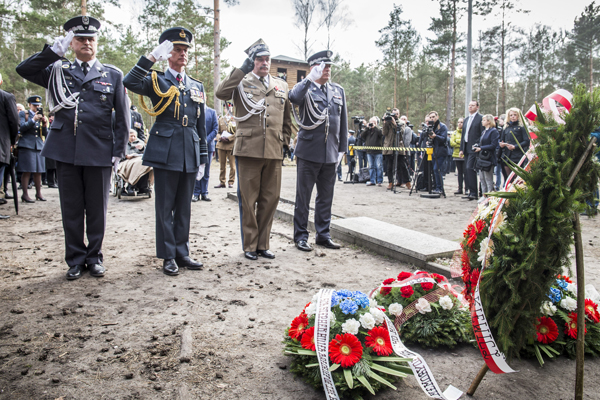 On 24 March 2019 people from all over the world gathered at the former prison camp in Poland, assembling at the exit to tunnel 'Harry'. They came to both celebrate and commemorate.
To celebrate the 'story' of the Great Escape, the extraordinary lengths the prisoners-of-war went to keeping the tunnelling from their captors, the systems they established warning against the search efforts of 'ferrets' and 'goons', the use of 'penguins' and the ingenious methods of distributing excavated sand, the appropriation of materials needed for construction, the bed boards to shore up the tunnel, the production of false travel papers and disguises.
All of this industry and ingenuity within the limited confines of the compound and kept secret from the guards. Although one of the three tunnels was discovered, the POWs were undeterred in carrying out their planned mass breakout, focusing on tunnel 'Harry'.
It is truly a thrilling story of human endeavour. It is also necessary, however, to commemorate the 'tragedy' of the escape. Three of the 76 men who did get break free made 'home runs' but of those recaptured 50 were shot, murdered.
Seventy-five years on from that fateful day and night, relatives of escapers, dignitaries, current service personnel, veterans, including former Stalag Luft III POW Air Commodore (Ret'd) Charles Clarke OBE, and those simply intrigued by the story, have come together for the anniversary of The Great Escape.
Feelings are mixed. They do indeed celebrate what the officers of North Compound managed to achieve, against the odds, in defiance of their enemy, a triumph of human spirit and hope. But also, first and foremost, they commemorate the lives of the 50 young men who were killed in cold blood, against the accepted conventions of war. A multi-national group of young men united in the cause they fought for, the defeat of an aggressor, but also united in perpetuity for the sacrifice they made.
By Steve Darlow in Sagan, Poland
Visit the Great Escape homepage