This year the nation paid tribute to the bravery and sacrifice of 'The Few' Battle of Britain pilots who protected Great Britain's skies from Nazi invasion. Sergeant Stan Hartill was 19 years old when he joined the RAF, servicing Spitfires at Middle Wallop for one week when the Battle broke out. In this Remembrance Sunday blog Stan, 95, tells us why he will be remembering those brave young pilots who never made the final journey home.
"If you saw how young those pilots were when they took off in their Spitfires, never once thinking of their own safety, you, like me, would have nothing but admiration for them.
I was a member of the ground crew team and we got to know some of the pilots very well. They knew we were outnumbered but they still went into the skies to protect us day in day out.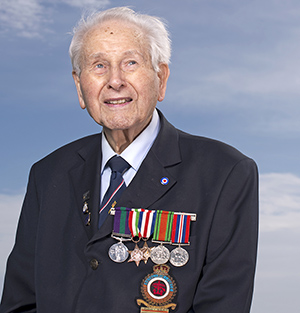 "I remember one Saturday night about 5pm, our Squadron was scrambled to meet some German bombers and when they came back I asked the pilot, 'How did you get on Sir?' and he said, 'Do you know there are hundreds of them and they are simply pattern bombing London and Hartill, there is nothing we can do to stop them'.
And that was one of the moments that we felt 'God Almighty, we are losing this war'.
"Of course many did not return – 33 per cent of those who fought in the Battle of Britain were injured or lost their lives – that's a staggering figure. We would never refer to a pilot as having died – there's an RAF saying - 'Billy Brown has bought it' – and that's what we'd say.
"I still think about those young men today and the huge sacrifices they made. I was also part of D-Day landings and was honoured to receive the Légion d'honneur from the French government recently.
"I remember one day visiting a church in Normandy and seeing lying down the whole side of one aisle about 50 young allied dead soldiers. Not one looked a day over 18. I keep seeing them lying there to this day and it still touches me.
"This Remembrance, I will be remembering all of those young men who lost their lives in the Second World War and I hope we never, ever forget their sacrifice."