By the end of the Battle of Britain the Poles had developed a fearsome reputation in combat, with 303 Squadron claiming the highest number of victories despite only joining the battle halfway through. We must never forget the incredible sacrifice those men made to protect our skies, men like 303 Squadron Commander Jan Zumbach.
Jan Eugienius Ludwik Zumbach was born in Warsaw in 1915. He joined the Polish Army in 1934 but transferred to the air force two years later. After completing officer training in 1938 he joined a Fighter Squadron but was injured in a flying accident just before the German invasion in 1939.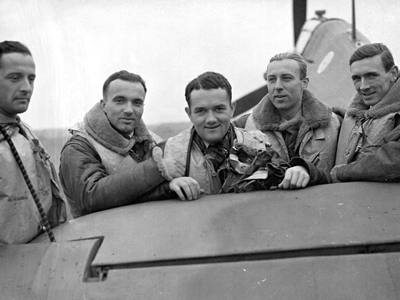 Unable to fly and fight, he made his way to France flying the Morane 406 and Curtiss Hawk 75. On 10 June, he was one of several pilots shot down by a Messerschmitt, but miraculously escaped unscathed.
Eight days later he travelled to England by boat and joined the Royal Air Force.
With more than 8,000 Polish airmen making their way to Britain, the English were tasked with getting them trained and ready for combat. The Poles had to be taught practically everything from scratch but as accomplished pilots in their own right, the Poles felt belittled by some of the English teaching tactics. Language lessons also became a top priority as most of the Polish pilots did not speak any English.
Zumbach wrote in his memoirs: "The British wasting so much of our time with their childish exercises when all of us had already won their wings."
It soon became clear to the British that the Poles were extremely skilled pilots and Zumbach along with 33 other Poles joined 303 Squadron based out of RAF Northolt and joined in the Battle of Britain.
By 7 September Zumbach had claimed two German Dornier bombers. He would claim a further five German fighters and one bomber during the Battle, and in December 1940 was awarded the Virtuti Militari, Poland's highest military decoration.
On 9 May 1941, Zumbach had another close call when he was shot down by enemy aircraft over Dover when returning from a mission. Somehow, he once again bailed out unharmed.
During that same year, Zumbach would claim a further four enemy fighters and received the Distinguished Flying Cross for his efforts but was taken off operations in December to serve as an instructor. He returned to 303 Squadron in March 1942, taking command of the squadron two months later.
He was given command of the Polish Wing in April 1943, which he commanded (except for a few months when he attended the Polish Staff College) until January 1945. He continued to fly and fight with his squadrons and made at least one further claim.
In January 1945 he was posted as operations officer at No.84 Groups headquarters, taking part in the liberation of occupied Europe.
It is believed that Zumbach's final victory tally was 12 (and two shared) confirmed kills, five probables and one damaged.
Zumbach left the air force in October 1946 and died in France in 1986.
The Poles' contribution to the war against Nazi Germany was significant, although achieved at a very heavy price. The Polish War Memorial at RAF Northolt is a fitting tribute to Jan Zumbach and so many of his comrades, who risked everything.
Visit the Battle of Britain homepage