There was no squadron quite like No. 601 Squadron at the beginning of the Battle of Britain. The squadron was wholly ordinary in some aspects – stationed at RAF Northolt and flying Hawker Hurricanes and Supermarine Spitfires during the battle – but extraordinary in others.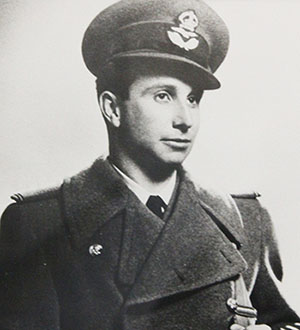 Formed as the first auxiliary squadron, No. 601 soon became known as 'the Millionaires' Squadron'.
Legend has it, its first members were selected by Lord Grosvenor at his favourite gentlemen's club, White's, from a pool of well-heeled, society friends with a liking of fast cars and alcohol, with aviation as a shared hobby.
While the squadron might have flouted some rules, breaking regulation with their bright red socks and lining their jackets with red silk, they were still an effective fighting unit that saw action in the earliest days of the Second World War.
Mobilised just days before Germany invaded Poland in 1939, the squadron was soon taking its first losses in skirmishes to protect shipping lanes in the English Channel.
It later took heavy losses in the Battle of Britain as it defended London from airfields in Essex.
Two of its more famous pilots were William Henry Rhodes-Moorhouse and American William 'Billy' Fiske III.
William Henry Rhodes-Moorhouse was the son of First World War pilot William Barnard Rhodes-Moorhouse.
The father flew in the Royal Flying Corps and was the first airman to receive the Victoria Cross, awarded posthumously in 1915 after a bombing mission in Ypres.
William Henry Rhodes-Moorhouse, born in 1914, inherited his father's passion for flying and qualified for his pilot's license aged just 17, while still a student at Eton. He shot down nine enemy aircraft, qualifying as an ace, and received the Distinguished Flying Cross at Buckingham Palace on the 3 September 1940.
He was killed in a dogfight just three days later.
Billy Fiske was raised in Chicago, before leaving for schooling in France and attending Cambridge in 1928. He discovered the sport of bobsleigh while in France and won an Olympic gold medal in 1928, aged just 16, and again in 1932. His record as the youngest winter gold medallist held until 1992.
Fiske worked in both London and New York in the pre-war years, but returned to Britain at the end of August 1939 to join the RAF.
He wrote in his journal, "I believe I can lay claim to being the first U.S. citizen to join the RAF in England after the outbreak of hostilities."
After completing his training, Fiske was assigned to No. 601 Squadron. On 20 August 1940, his squadron scrambled and shot down eight enemy aircraft. Fifteen minutes into the battle, Fiske's aircraft was struck by German fire and he crash landed at RAF Tangmere. He died two days later after suffering burns. Fiske was one of 11 American pilots in Fighter Command and the second to die in battle.
The inscription on his gravestone reads, "He died for England", and a plaque in the crypt of St Paul's Cathedral states, "An American citizen who died that England might live".
Visit the Battle of Britain homepage