A train driver from Baillieston is gearing up to support the RAF Benevolent Fund, the RAF's leading welfare charity.
John Patrick is marking his 50th birthday by taking on a Half Century Challenge in which he will complete 50 different exercise repetitions per day for a month. His challenge started on 16 August and will conclude on 16 September.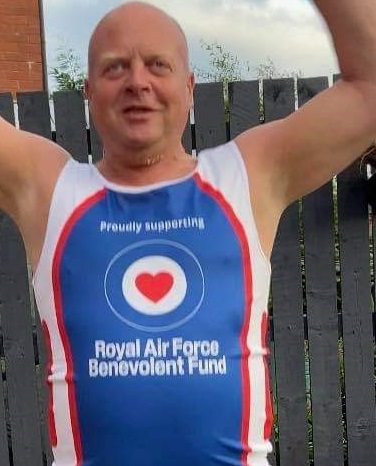 John is encouraging people to visit his page and suggest an exercise to challenge him daily. He has already completed 50 star jumps, 50 press ups, a 50-second hold of the splits, 50 squat thrusts and more!
John said: "With the big 5-0 approaching, I wanted people to contribute to the RAF Benevolent Fund instead of buying gifts. As a former Airman who served from 1988–1997 and with the Auxiliaries for three years, I know just how important the Fund's work is."
John initially aimed to raise £500 but he reached this in less than a week, so has set a new goal of £1,000. To donate to John's Half Century Challenge, visit justgiving.com/John-Patrick50.
The RAF Benevolent Fund provides financial, practical and emotional support to all members of the RAF family whether they are serving or former members as well as their partners and dependants. They help members of the RAF family deal with a wide range of issues: from childcare and relationship difficulties to injury and disability, and from financial hardship and debt to illness and bereavement.
Michelle Jeffcott, Regional Fundraiser for the RAF Benevolent Fund, said: "Thank you so much to John for his support. By taking on this challenge he is helping our RAF veterans and serving RAF personnel as well as their families.
"Last year we spent £28 million supporting the RAF Family in need and simply couldn't do that without the kind and generous support from people like John."
If you'd like to fundraise for the RAF Benevolent Fund, please contact Michelle Jeffcott at michelle.jeffcott@rafbf.org.uk or visit rafbf.org/get-involved/events.