After being injured in Afghanistan, former Army Colour Sergeant Marty Wilson embarked on a triathlon to raise funds to support other veterans with head injuries.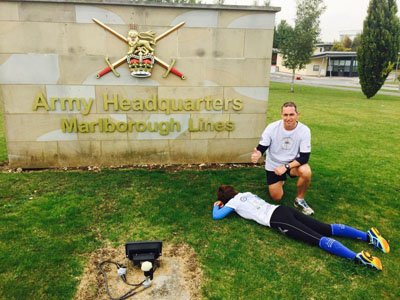 Marty was joined by occupational psychologist Sarah Pearson who has been part of the team helping him recover after being shot in the head in 2011 while serving with 2 Paras. In fact planning for the triathlon, taking a route linking all three service headquarters, has helped Marty with his recovery.
Sarah explained: "Outwardly, Marty does not look like as if he has any disability or any condition. A lot of Marty's difficulties are cognitive related. He had to learn to speak again, read again, and write again over a long period of time. He has a difficulty with problem-solving, with memory and being able to proactively deal with a situation.
"The preparation for this trip became part of his treatment. He has learned about triathlons as much as possible, reading magazines and learning swimming and cycling techniques."
Sarah and Marty's challenge began at HMS Excellent in Portsmouth with a 900m swim. The duo then cycled the 92 miles to RAF High Wycombe, home to Air Command, to complete day one. The pair went on to run 62 miles over two days – the equivalent of two and a half marathons – from RAF High Wycombe to the Army Headquarters at Marlborough Lines.
Sarah, a former Paralympic triathlete, completed the challenge with Marty, keeping an eye on his wellbeing.
The funds raised will be split between the RAF Benevolent Fund, Support Our Paras, the Royal Marines Charitable Trust Fund and the Disabilities Trust. If you would like to add to the tally go to Marty and Sarah's Virgin Money page.
Philip Wiles, Head of Housing and Care Services at the RAF Benevolent Fund, said: "Veterans suffering from head injuries not only face a lengthy rehabilitation but must overcome the perception that they don't have a visible problem.
"Marty's pledge to raise awareness and funds for others like him is inspirational. With supporters like him we can continue to provide funding for services which are tailored to the needs of service personnel who have been wounded in a similar way."